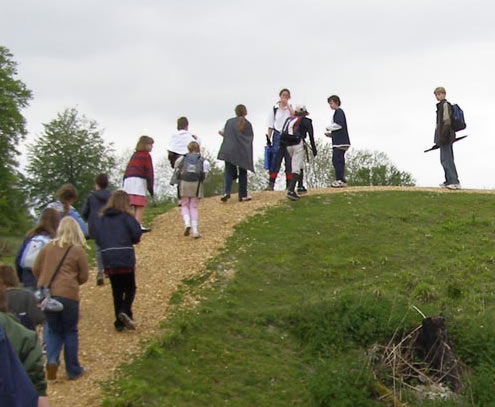 This month at YAC members took at trip back in time. Dressed as Iron Age people they went to Danebury hillfort to see what Iron Age life would have been like.
On arrival the "tribe" marched up onto the ramparts, where they were impressed by the number of banks and ditches, as well as how far they could see! Then from this viewpoint they looked down into the centre of the hillfort. Below them would have been the actual roundhouses and they could imagine them nestling there.
The tribe then climbed down into the centre of the hillfort to have a go at some Iron Age activities. First there was weaving to be learnt, then as part of their initiation into Iron Age society, tattoos were designed and drawn onto their hands and faces!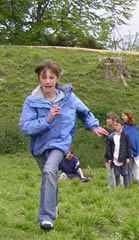 Having learnt that the average size of a roundhouse at Danebury was 10m in diameter, some members acted as human posts so that everyone could see just how big or small it would have been to live inside a roundhouse.
Then, after some fun and games, they tucked into their Iron Age picnics. These consisted mainly of chunks of bread with ham or cheese, pork pies, apples and fruit juice. Crisps and chocolate were not allowed!
After lunch they clambered back onto the ramparts and completed a full circuit of the hillfort before returning to the 21st century.