This month at our YAC meeting, members were lucky enough to get some hands-on experience on a REAL ARCHAEOLOGICAL EXCAVATION!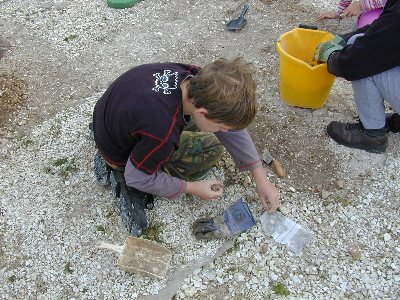 We all met up at Down Farm in Dorset on Saturday the 8th of September. Down Farm, however, is no ordinary farm, its owner Dr Martin Green is also an excellent archaeologist and he's been excavating on his land since the 1970s.


For the last four years Wessex Archaeology have been excavating an Iron Age site here as part of their annual Training Course. It was Martin and Wessex Archaeology that gave YAC members permission to dig!
Our session was divided into two parts. As all good archaeologists know, it's important to find out as much as possible about an area before you start to dig! Members were lucky enough to be given a tour by Martin himself. They found out about all the other archaeological excavations that had taken place on the farm, plus the archaeology of the wider area. The tour was finished off with a chance to look around the on-site museum, showing all the amazing finds from the previous excavations. As an extra special treat they also got to see Martin flint knapping!
Then of course there was the excavation. All the members did really well, making sure they excavated slowly and carefully. Their hard work and patience were rewarded by some excellent finds which included burnt flint and Iron Age pottery. Stephen managed to find the most bits of pottery – lucky him. Emma and Charlotte also did a brilliant job of 'half-sectioning' their archaeological features – very professional.
So to some it all up – well done to all our diggers and a very big THANK YOU to Martin from all of us at South Wilts YAC!