This month at YAC it was mosaic madness! Members were set the challenge of creating a mosaic to act as a display for this year's National Archaeology Day. They were split into four groups, each with its own brief.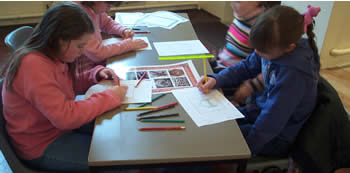 The Brief: You have an area of tiles (or tesserae as the Romans would say!) 12 by 12 tiles – that's 144 individual tesserae! You must design a mosaic using –
Group 1 – The letter Y
Group 2 – The letter A
Group 3 – The letter C
Group 4 – The year 2006
The choice of colours was: Red, Green, Yellow, Black, White & Grey. But we also learnt what colours the Romans might have used:
Red & Brown – Iron stone
Yellow & Brown – Limestone & Sandstone
Blue & Black – Slate
White – Chalk
First each member of the group made his or her own design, then the group used ideas from each to come up with a final design to draw to scale and then be made. This is much the way it would have happened in Roman times. A mosaic being made for a villa would probably have gone through several stages of design, after all the owner of the villa – who was paying for it – would have insisted that it to looked exactly how he or she wanted it to!
Then came the messy bit – gluing each of the 144 tesserae into place on the wooden boards to create the finished mosaic. These are now grouted ready to be used as part of the display.
Nice work guys! 🙂