In October the South West Wilts YAC group were invited to the annual conference of the CBA (Council for British Archaeology). But we weren't there just to listen to the speeches – we were there with Julian Richards to educate and entertain the adults with a short history of burial practices through the ages.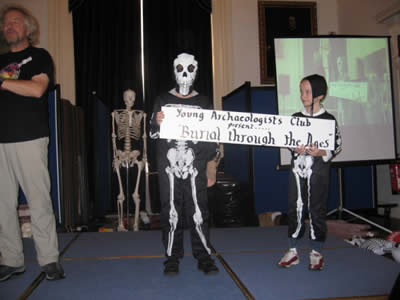 With Julian's help we 'buried' a number of rather well-known archaeologists one by one as they would have been laid to rest in different periods.
Our Neolithic victim was buried in a long barrow!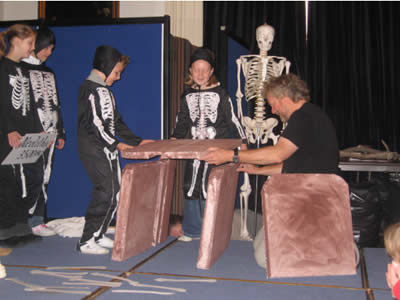 And the Bronze Age leader was laid out with his Beaker and flints under a barrow of chalk.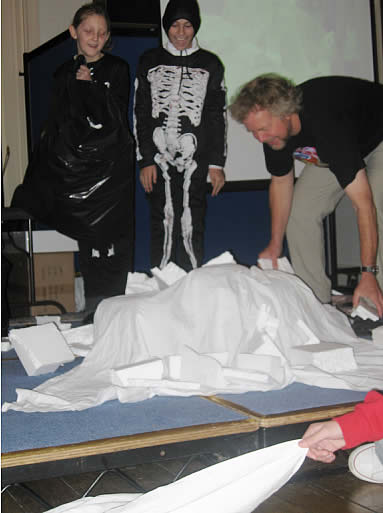 One of our corpses was even important enough to be buried with his horse!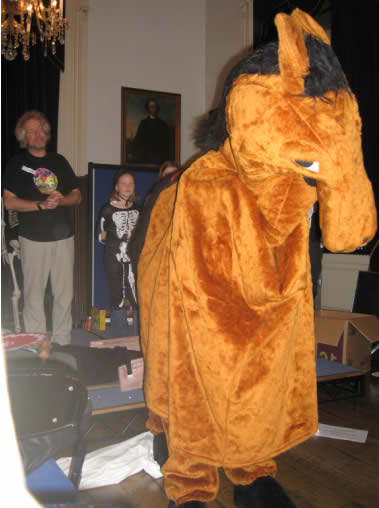 After this rather impressive theatrical lecture, we left the CBA members to their business and went upstairs for a well-earned drink and biscuit. Once we had recovered from being on stage in front of so many people there were two activities to do.
We were very pleased to have Wendi Terry, YAC Network and Events Officer to lead one of them. She invited everyone to 'excavate a poo' (not real ones, but the play-dough looked horribly like it!).
Wendi explained that archaeologists can find out a lot about what people ate long ago by examining the tiny fragments surviving in their poos!
Our second activity was challenging in a different way. Two teams were given a burial to investigate (no, it wasn't a real skeleton either!) and had to see which team could find out most about it. But there was an added difficulty. Just like real archaeologists they had to pay for specialist information, so the winners were those who found out most – without breaking the bank!